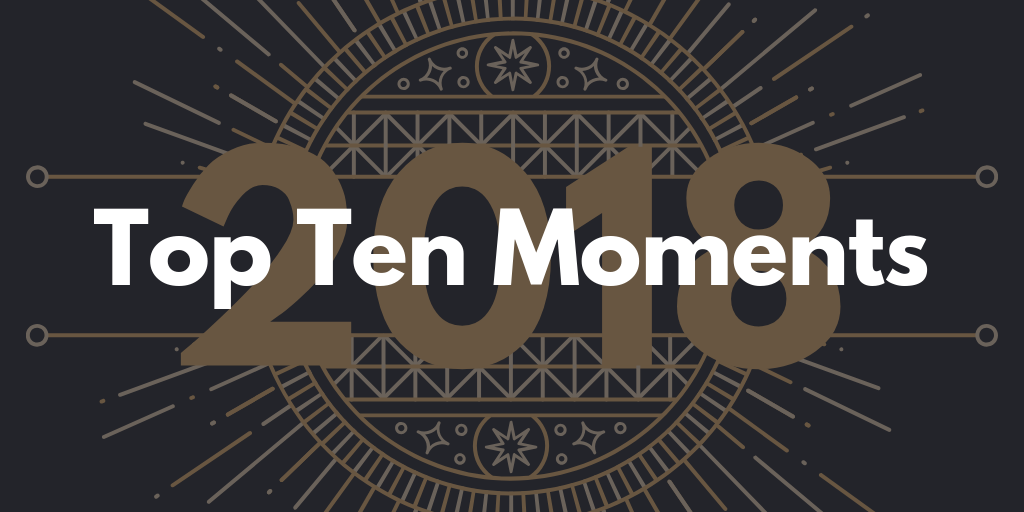 Wait, can you believe it … a brand new year? Where did the time go!!
As we prepare to welcome in 2019, we invite you to reflect on the incredible accomplishments we made together this year at Yellowstone! From our young scholars shattering statistics in Pre-K through 8th grade, to our incredibly fun events – the year of 2018 was truly one for the books!
Yellowstone would not be here without our supporters and the brilliant work of our students—they were the true champions of 2018! So, please join us in our 2018 Year In Review, as we acknowledge all the work we've accomplished together this year.
Our first Party in the Park event was a phenomenal success! Chaired by Claudia and Brad Freels and Marian and Willie Langston, this special 15th Anniversary celebration raised just over $1.75 million to support the on-going work of Yellowstone Academy, including a $200,000 commitment for capital improvements from Building New Foundations. The party was such a hit, we're doing it again next year! We hope to see you there! To see photos from this year's event, please click here.
The Sweet Taste of Success
In May, Yellowstone hosted its second annual Lemonade Day. In partnership with Lemonade Day! Houston and Cadence Bank, Yellowstone students, from Pre-K to 8th grade, were able to try their hand at entrepreneurship – by opening lemonade stands!
Our young entrepreneurs spent weeks preparing for their big entrepreneurial debut—and by all accounts, this year's Lemonade Day was a huge success! Yellowstone students raised more than $11,000 during the Lemonade Day, with 30% of the proceeds going directly to various charities. To see photos from the event, please click here.
Yellowstone's eighth grade graduates and alumni experienced incredible success, with our 2017-18 eighth grade graduates granted admission to multiple top-ranking high schools throughout Houston. Each student is currently attending a high-quality school. Other notable achievements were:
100% of our high school-age alumni enrolled in high school or have graduated early and are now enrolled in college.
88% of our college-age alumni have successfully earned their high school diploma and 77% have enrolled in college or a post-secondary certification program.
The Proof Is in the (Academic) Pudding
We are proud to report that our young scholars from Pre-K through 8th grade, maintained high marks for another year. As cited in our 2017-2018 Annual Report, Yellowstone students made incredible academic progress in Math and Reading:
100% of Pre-K on track in Math! This is the second consecutive year that Pre-K4 saw all students on track in math.
88% of 4th grade is proficient or advanced in reading! Last year, only 30% of these students were proficient or advanced in reading.
2nd Graders – 100% on track in Reading & 82% on track in Math.
8th Graders – Received B+ in Math & Reading.
Laying the Foundation, Brick by Brick
During 2018, Yellowstone celebrated 15 years of excellence in education. The Academy completed nearly $1 million in facility renovations over the last year, including the relocation of the main office to the front of the building. Additionally, Yellowstone embarked on a new strategic plan allowing it to expand to serve nearly 1,000 students annually by our next milestone anniversary in 2022.
Expanding the Pride: Yellowstone College Prep is Launched!
On Wednesday, August 15, Yellowstone College Prep launched and opened its doors to 250 students entering either the 5th, 6th, 7th, or 8th grades and a wait-list of students hoping to attend was formed.
Nearly seven years in the making, this new school joins the Yellowstone Lion PRIDE family, and is an open-enrollment, public charter school co-located on the same campus with Yellowstone Academy. This exciting initiative is the first public/private model of its kind in Texas.
With a combined enrollment of nearly 500 students, the launch of Yellowstone College Prep allowed us to grow by nearly 45%. To see footage of opening day, please click here.
Yellowstone held its annual Fall Community Day of Service in October. The Community Day of Service is a bi-annual event at Yellowstone occurring in the Spring and Fall, and allows the students, staff and family members and friends of Yellowstone to engage in service projects on our campus and around the neighborhood.
Volunteers gave back in a big way by beautifying the community, planting flowers, cleaning buses and & more. The Fall 2018 Community Day of Service was our largest one yet! To see photos from the event, please click here.
Food, Friends, and Thanks!
Each year, thousands of Houstonians share their time, talent and treasures with the children at Yellowstone to help ensure they have the resources they need to succeed. In November, nearly 200 friends and supporters of Yellowstone came together for our Friendsgiving Brunch – a brunch celebrating friendship and the impact Yellowstone is having on our community.
The 2018 Friendsgiving Brunch raised more than $275k for the Yellowstone Schools! And during the event, we all experienced a special treat — student Melissa Pellerin gave a moving and heartfelt talk about what it is like to be a student in Houston and how Yellowstone has become her "safe, homey place." Aww, we 'heart' you back, Melissa!!
Food, Friends, and Thanks!
2018 was an INCREDIBLE year for the Yellowstone Schools — and we couldn't have done it without every part of our community. From funding partners and financial supporters who gave sacrificially, to students who worked hard, to the parents who showed up and brought their children every day, to the faculty and staff members who gave of their time and great talents — THANK YOU!
There's still time to support our work in 2018 — will you consider making a financial gift before the year ends? Click here to make a gift now!