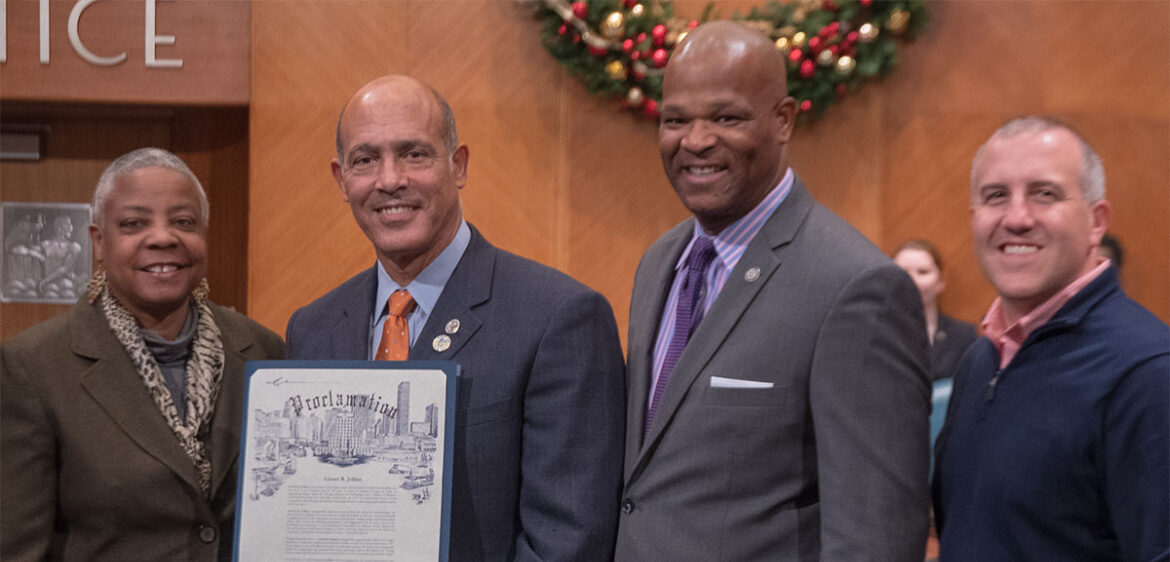 L-R: Charic Jellins, Yellowstone College Prep Board Chair Lionel Jellins, Houston City Council Member Dwight Boykins, Yellowstone College Prep Superintendent Ryan Dolibois. Download a high resolution version »
Houston, TX (Nov. 27, 2018) – Mayor Sylvester Turner and Council Member Dwight Boykins honored Yellowstone College Prep's Chairman of the Board, Lionel Jellins, by proclaiming today as Lionel R. Jellins Day in recognition of his outstanding record of volunteer service and leadership.
For the last several years, Mr. Jellins has provided critical leadership and support for the Yellowstone Schools. He was instrumental in helping to craft the school's vision, traveled to Austin to help secure a state charter, and continues to serve as the founding chairman of the board.
In addition to serving on the board for Yellowstone College Prep, Mr. Jellins has a long history of volunteering in Houston – including more than 40 years with the Boy Scouts of America. Mr. Jellins continues to serve as a scout master and has helped 29 scouts achieve scouting's highest honor – the Eagle Scout Award.
"We believe that it is time for all hands on deck to address the failing schools in our community, and that it is time for all of us to be appalled at the poor quality of education that many of our students are enduring in our community," said Mr. Jellins.
"Yellowstone is doing something about these challenges, not by skimming the best students from our community and taking them away, but by remaining in the middle of the community and opening our doors for students and parents seeking a successful alternative."
###
About Yellowstone College Prep
Yellowstone College Prep (yellowstonecollegeprep.org) is new open-enrollment, public charter school, growing to serve students in 5th-12th grade. Through an innovative model that is the first of its kind in Texas, YCP is co-located on the same campus with Yellowstone Academy, a private school in its 16th year of operation. YCP's model includes smaller class sizes (capped at no more than 20 students per class), and a culturally relevant, interdisciplinary experience with a focus on rigorous academics, strong character education, and intentional parent and community engagement.